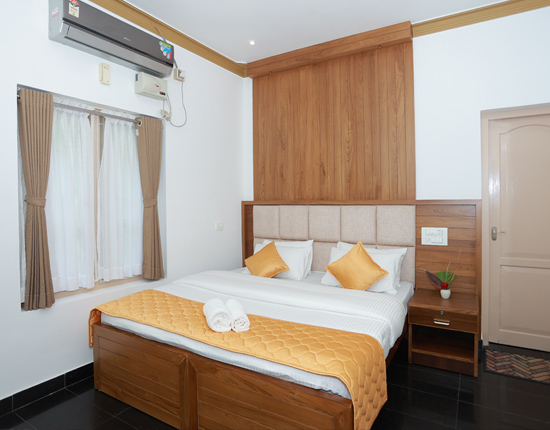 Built around an open courtyard, the Ideal Ayurvedic Resort consists of the main guesthouse, 4 traditional Keralan cottages, and a treatment center. With a maximum capacity of 50 Guests, the resort offers an unequaled level of friendly individual attention.

The Main Guest House contains 10 tastefully decorated double rooms with a large ceiling fan, Telephone and ensuite toilet/shower and a 15 pool view rooms are featured with Spacious interiors, air-conditioned (limited rooms), fan, ensuite toilet/shower room with hot water, balcony overlooking the pool which ensures your privacy.

The highest levels of cleanliness and hygiene are kept throughout the whole compound. The grounds and the communal parts of the buildings are washed down, cleaned and swept every morning, and individual rooms are cleaned every day. Clean bed linen, towels, soaps and shampoo sachets are also supplied daily. The water supplied throughout the compound is sterilized.

Please see our tariff sheet for our Accommodation Rates.